Video Editing – Bringing picture to life
Video editing is the most misunderstood part of the production process.  Yes, the video editor assembles raw footage, but a good editor is much more. Using a blend of both technical and artistic skill, it is their job to put create a masterpiece and tell a moving story. Video editing is magical and all about bringing an idea of life.  What is the message you need to convey?  Who is the audience you are targeting? What is the emotion you want your audience to walk away with?  No matter the subject of your particular video editing project, it is all about telling a story and Avant Productions has a fantastic team of video editors ready to bring your thoughts to life.
Regardless of your budget, we make sure that your video editing project looks polished and professional.  From video editors, colorists, Sound Design, Motion Graphics, to offline edits, and the list goes on. With our four edit bays and full Avid, Premiere, and Final Cut Pro capability, you can just sit back and let our experienced post-production team make your video editing project shine.
Along with our video editing facilities, Avant Productions offers motion graphics and 3D animation to help take your project to an entirely new level.  We also have a fully stocked library of copyright-free music, titles and more.  Whether your video production is a commercial, music video, promo, corporate or non-profit project, or feature film, Avant Productions can take care of everything from concept to completion.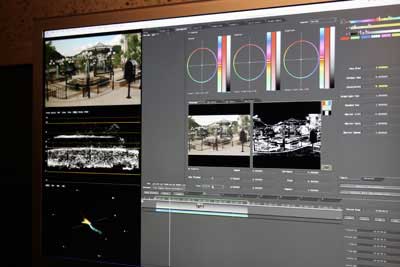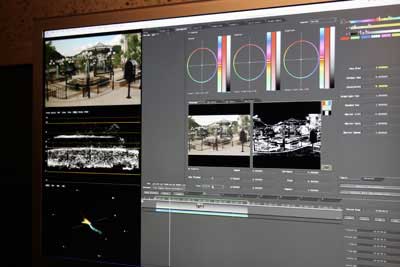 "Looking at a first assembly is kind of like looking at an overgrown garden. You can't just wade in with the weed whacker; you don't yet know where the stems of the flowers are."
Color Grading – Take your images to a new level
At AVANT we make sure that your project looks beautiful! With our color grading facilities we have the keen eye to take a project from "great" to "WOW":
Fix problem clips that may be too bright or too dark

Even out the color and contrast of each of the shots in a scene so they all look as if they occur in the same place at the same time

Bring attention to specific elements in the frame

Make creative adjustments to stylize the appearance of the images
DaVinci Resolve is the world's most advanced color corrector! From creative editing and multi camera television production to high end finishing and color correction, only DaVinci Resolve features the creative tools, compatibility, speed and legendary image quality you need to manage the entire workflow, which is why it is the number one solution used on Hollywood feature films.